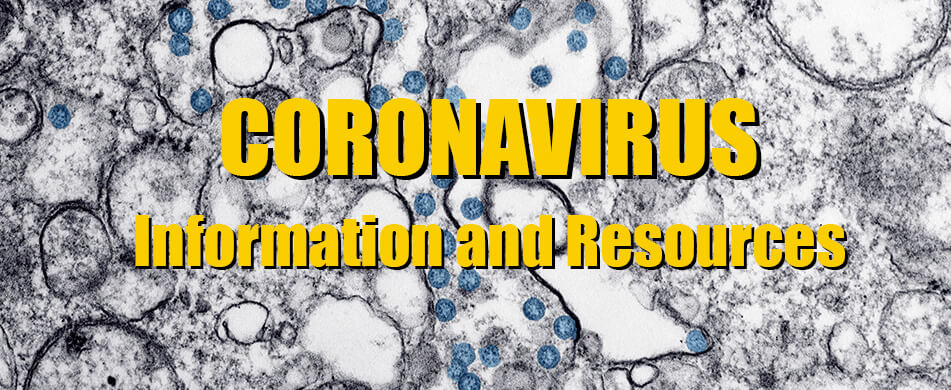 Resources For Health Professionals
Publications and Scientific Information General Information and Guidance
Latest Publications and Scientific Information
Health Alerts
Severe Illness Associated with Using Non-Pharmaceutical Chloroquine Phosphate to Prevent and Treat Coronavirus Disease 2019 (COVID-19)
Chloroquine phosphate, when used without a prescription and supervision of a healthcare provider, can cause serious health consequences, including death. Clinicians and public health officials should discourage the public from misusing non-pharmaceutical chloroquine phosphate (a chemical used in home aquariums). Clinicians should advise patients and the public that chloroquine, and the related compound hydroxychloroquine, should be used only under the supervision of a healthcare provider as prescribed medications.
Journal Pre Proof
Don't overlook digestive symptoms in patients with 2019 novel coronavirus disease (COVID-19)
Over  the  course  of  the  current pandemic,   it   became   apparent   that   some   patients   can   present   with   abdominal symptoms  without  fever  or  respiratory  manifestations,  and  could  be  overlooked  by health care providers. 
SARS-CoV-2 turned positive in a discharged patient with COVID-19 arouses concern regarding the present standard for discharge
April 3, 2020
Lessons from Covid-19 Hotspots
Eric J. Rubin, Lindsey R. Baden, and Stephen Morrissey
In this audio interview conducted April 1, the editors draw lessons from the early Covid-19 outbreak in Seattle and the growing crisis in New York City. Listen to the interview.
Barrier Enclosure during Endotracheal Intubation
Clinicians with inadequate access to standard personal protective equipment (PPE) have been compelled to improvise protective barrier enclosures for use during endotracheal intubation. We describe one such barrier that is easily fabricated and may help protect clinicians during this procedure.
Addressing the COVID-19 Pandemic in Populations With Serious Mental Illness
The coronavirus disease 2019 (COVID-19) pandemic will present an unprecedented stressor to patients and health care systems across the globe. Because there is currently no vaccine or treatment for the underlying infection, current health efforts are focused on providing prevention and screening, maintaining continuity of treatment for other chronic conditions, and ensuring access to appropriately intensive services for those with the most severe symptoms.
April 2, 2020
Governmental Public Health Powers During the COVID-19 Pandemic
The president and all 50 governors have declared health emergencies to counteract the spread of severe acute respiratory syndrome coronavirus 2 (SARS-CoV-2), which causes coronavirus disease 2019 (COVID-19). While researchers race to develop vaccines, officials are implementing physical distancing, including orders to stay at home, restricting travel, and closing nonessential businesses.
April 1, 2020
Virological assessment of hospitalized patients with COVID-2019
Altogether, this suggests active virus replication in upper respiratory tract tissues, where SARS-CoV is not thought to replicate in spite of detectable ACE-2 expression19,20 . At the same time, the concurrent use of ACE-2 as a receptor by SARS-CoV and SARS-CoV-2 corresponds to a highly similar excretion kinetic in sputum, with active replication in the lung.
An Uncomplicated Delivery in a Patient with Covid-19 in the United States
This case describes uncomplicated labor and vaginal delivery in a woman with Covid-19. Care was taken to avoid infecting hospital staff, and 7 days after the delivery, no caregivers appeared to be infected.
Detection of Covid-19 in Children in Early January 2020 in Wuhan, China
A small number of cases of coronavirus disease 2019 (Covid-19) have been described in children,1,2 and our understanding of the spectrum of illness is limited.3 We conducted a retrospective analysis involving hospitalized children in Wuhan, China.
Rather than stumble through a series of starts and stops and half-measures on both the health and the economic fronts, we should forge a strategy to defeat the coronavirus and open the way to economic revival. If we act immediately, we can make the anniversary of D-Day on June 6, 2020, the day America declares victory over the coronavirus.
Universal Masking in Hospitals in the Covid-19 Era
As the SARS-CoV-2 pandemic continues to explode, hospital systems are scrambling to intensify their measures for protecting patients and health care workers from the virus. An increasing number of frontline providers are wondering whether this effort should include universal use of masks by all health care workers. Universal masking is already standard practice in Hong Kong, Singapore, and other parts of Asia and has recently been adopted by a handful of U.S. hospitals.
March 31, 2020
Preliminary Estimates of the Prevalence of Selected Underlying Health Conditions Among Patients with Coronavirus Disease 2019 — United States, February 12–March 28, 2020
Based on preliminary U.S. data, persons with underlying health conditions such as diabetes mellitus, chronic lung disease, and cardiovascular disease, appear to be at higher risk for severe COVID-19–associated disease than persons without these conditions.
Safety Recommendations for Evaluation and Surgery of the Head and Neck During the COVID-19 Pandemic
Health care workers who come in close contact with a patient's head and neck are particularly at risk for developing coronavirus disease 2019 (COVID-19) because of the rapid spread of severe acute respiratory syndrome coronavirus 2 (SARS- CoV-2) through respiratory droplets. This article provides safety recommendations for these health care workers regarding exams and surgical procedures based on a review of the literature and the experiences of physicians with firsthand knowledge of safety procedures during this pandemic.
Surgical Considerations for Tracheostomy During COVID-19 Pandemic
Lessons learned from the 2003 severe acute respiratory syndrome (SARS) epidemic may help reduce the spread of severe acute respiratory syndrome coronavirus 2 (SARS- CoV-2), the cause of coronavirus disease 2019 (COVID-19), to health care workers performing open tracheostomies, a surgical procedure to open an airway that may be required for many patients with COVID-19.
Ocular Findings of Patients With COVID-19
One-third of COVID-19 patients from Hubei, China, had ocular manifestations, occurring frequently in patients with more severe physical conditions.
Measures for Care of Cancer Patients During COVID-19 Outbreak in China
The authors describe measures taken to reduce the risk of transmitting severe acute respiratory syndrome coronavirus 2 (SARS- CoV-2) to medical staff and cancer patients seeking treatment during the COVID-19 outbreak in China.
Perspectives on COVID-19 Control Measures for Ophthalmology Clinics
This article describes treatment initiatives being undertaken for novel coronavirus 2019 at an ophthalmology center in Singapore.
March 30, 2020
SARS-CoV-2–Positive Sputum and Feces After Conversion of Pharyngeal Samples in Patients With COVID-19
Pharyngeal swabs are widely used to determine the appropriateness of a patient's discharge from the hospital and whether isolation continues to be required. We observed 22 patients who had positive RT-qPCR results for SARS–CoV-2 in the sputum or feces after pharyngeal swabs became negative. These finding raise concern about whether patients with negative pharyngeal swabs are truly virus-free, or sampling of additional body sites is needed.
Covid-19 in Critically Ill Patients in the Seattle Region — Case Series
During the first 3 weeks of the Covid-19 outbreak in the Seattle area, the most common reasons for admission to the ICU were hypoxemic respiratory failure leading to mechanical ventilation, hypotension requiring vasopressor treatment, or both. Mortality among these critically ill patients was high.
Older Clinicians and the Surge in Novel Coronavirus Disease 2019 (COVID-19)
The recent report of 2 critically ill emergency physicians infected by the novel coronavirus disease 2019 (COVID-19) is a sobering reminder of the vulnerability of the nation's health care workforce.1 While all members of the health care workforce are vital as the health care system faces perhaps its greatest challenge in memory, physicians and nurses are the caregivers who typically have the most direct contact with patients, whether through advising, triaging, or treating those who require hospitalization.
Optimizing the Trade-off Between Learning and Doing in a Pandemic
The world is united regarding the goal of ending the coronavirus disease 2019 (COVID-19) pandemic but not the strategy to achieve that goal. One stark example is the debate over whether to prescribe available therapies, such as quinine-based antimalarial drugs (eg, chloroquine or hydroxychloroquine), or test these drugs in randomized clinical trials (RCTs). At the heart of the problem is one of the oldest dilemmas in human organizations: the "exploitation-exploration" trade-off.
March 27, 2020
Cardiovascular Implications of Fatal Outcomes of Patients With Coronavirus Disease 2019 (COVID-19)
Myocardial injury is significantly associated with fatal outcome of COVID-19, while the prognosis of patients with underlying CVD but without myocardial injury is relatively favorable. Myocardial injury is associated with cardiac dysfunction and arrhythmias. Inflammation may be a potential mechanism for myocardial injury. Aggressive treatment may be considered for patients at high risk of myocardial injury.
Treatment of 5 Critically Ill Patients With COVID-19 With Convalescent Plasma
In this uncontrolled case series of 5 critically ill patients with COVID-19 and acute respiratory distress syndrome (ARDS), administration of convalescent plasma containing neutralizing antibody was followed by an improvement in clinical status.
Epidemiology of Covid-19 in a Long-Term Care Facility in King County, Washington
In the context of rapidly escalating Covid-19 outbreaks, proactive steps by long-term care facilities to identify and exclude potentially infected staff and visitors, actively monitor for potentially infected patients, and implement appropriate infection prevention and control measures are needed to prevent the introduction of Covid-19.
March 26, 2020
Cutaneous manifestations in COVID‐19: a first perspective
From the collected data (88 patients), 18 patients (20.4%) developed cutaneous manifestations. 8 patients developed cutaneous involvement at the onset, 10 patients after the hospitalization. Cutaneous manifestations were erythematous rash (14 patients), widespread urticaria (3 patients) and chickenpox-like vesicles (1 patient). Trunk was the main involved region. Itching was low or absent and usually lesions healed in few days. Apparently there was not any correlation with disease's severity.
Neonatal Early-Onset Infection With SARS-CoV-2 in 33 Neonates Born to Mothers With COVID-19 in Wuhan, China
Although 2 recent studies1,2 have shown that there were no clinical findings or investigations suggestive of COVID-19 in neonates born to affected mothers, and all samples, including amniotic fluid, cord blood, and breast milk, were negative for SARS-CoV-2, the vertical maternal-fetal transmission cannot be ruled out in the current cohort. Therefore, it is crucial to screen pregnant women and implement strict infection control measures, quarantine of infected mothers, and close monitoring of neonates at risk of COVID-19.
As of  March  25,  2020, WHO's  online  coronavirus  disease  2019  (COVID-19)  situation  dashboard  reveals  that  the  pandemic  spans  195  countries  and  territories with 375 498 cases. With this rapid expansion of the pandemic comes a growing need to ensure that accurate and credible information is accessible to public  health  authorities,  researchers,  and the wider public.
March 25, 2020
The effect of control strategies to reduce social mixing on outcomes of the COVID-19 epidemic in Wuhan, China: a modelling study
Our projections show that physical distancing measures were most effective if the staggered return to work was at the beginning of April; this reduced the median number of infections by more than 92% (IQR 66–97) and 24% (13–90) in mid-2020 and end-2020, respectively.
Novel Coronavirus and Old Lessons — Preparing the Health System for the Pandemic
How sad that the people who remember the last major pandemic — influenza in 1968 — are the primary victims of today's. How sad that despite the many medical advances that have been made since then — critical care, extracorporeal membrane oxygenation (ECMO), emergency medicine, and emergency medical services, to name a few — the treatments offered to many patients in areas where Covid-19 has exploded are the same ones they might have received in that era. Perhaps the lessons they remember, those of quarantine, isolation, and social distancing, are the ones that will save us again.
March 24, 2020
Treating COVID-19—Off-Label Drug Use, Compassionate Use, and Randomized Clinical Trials During Pandemics
Although many drugs have in vitro activity against different coronaviruses, no clinical evidence currently supports the efficacy and safety of any drug against any coronavirus in humans, including SARS-CoV-2. Numerous drugs that have been highly promising in vitro for other infectious diseases have failed in clinical studies.
Novel 2019 coronavirus SARS-CoV-2 (COVID-19): An updated overview for emergency clinicians
This overview analyzes the best information from the early research, including epidemiologic and demographic features from SARS-CoV-1 and MERS-CoV viruses; lessons learned from the experience of an emergency physician in Northern Italy, where the outbreak has devastated the healthcare system
Coronavirus Disease 2019 (COVID-19) and Cardiovascular Disease
Among those with COVID-19, there is a higher prevalence of cardiovascular disease and more than 7% of patients suffer myocardial injury from the infection (22% of the critically ill). 
COVID-19: Abnormal Clotting Common in More Severe Disease
Endothelial damage and subsequent clotting is common in severe and critical COVID-19 coronavirus, which may have implications for treatment, Chinese clinicians said at a webinar co-sponsored by the Chinese Cardiovascular Association and American College of Cardiology.
Psychiatrists Anticipate Mental Health Needs With COVID-19
Psychiatric appointments across the country have been going virtual as mental health professionals try to limit potential exposures by moving to home offices and keeping outpatient visits to a minimum.
COVID-19 Update: 17 Days on Surfaces; U.S. 'New Epicenter'? Fatal Chloroquine
March 23, 2020
COVID-19: Melatonin as a potential adjuvant treatment.
This article summarizes the likely benefits of melatonin in the attenuation of COVID-19 based on its putative pathogenesis. The recent outbreak of COVID-19 has become a pandemic with tens of thousands of infected patients. Based on clinical features, pathology, the pathogenesis of acute respiratory disorder induced by either highly homogenous coronaviruses or other pathogens, the evidence suggests that excessive inflammation, oxidation, and an exaggerated immune response very likely contribute to COVID-19 pathology.
Factors Associated With Mental Health Outcomes Among Health Care Workers Exposed to Coronavirus Disease 2019
These findings suggest that, among Chinese health care workers exposed to COVID-19, women, nurses, those in Wuhan, and front-line health care workers have a high risk of developing unfavorable mental health outcomes and may need psychological support or interventions.
Interventions to mitigate early spread of SARS-CoV-2 in Singapore: a modelling study
Implementing the combined intervention of quarantining infected individuals and their family members, workplace distancing, and school closure once community transmission has been detected could substantially reduce the number of SARS-CoV-2 infections.
Coronavirus in New York - Report From The Front Lines (Video)
Case-Fatality Rate and Characteristics of Patients Dying in Relation to COVID-19 in Italy
New Guidelines on CPR When COVID-19 Is Known or Suspected
Ethics Committee Reviews of Applications for Research Studies at 1 Hospital in China During the 2019 Novel Coronavirus Epidemic
The Toughest Triage — Allocating Ventilators in a Pandemic
Fair Allocation of Scarce Medical Resources in the Time of Covid-19
Public Health Responses to COVID-19 Outbreaks on Cruise Ships — Worldwide, February–March 2020
March 22, 2020
Chloroquine for Coronavirus? Not So Fast
Chloroquine, the old malaria drug, is making news as a potential therapy for coronavirus. Does it belong in the headlines for its antiviral properties, or is it just hype and bluster? Will it become a drug? Let's find out.
Point-of-Care RNA-Based Diagnostic Device for COVID-19
A SARS-CoV-2-Human Protein-Protein Interaction Map Reveals Drug Targets and Potential Drug-Repurposing
March 21, 2020
Loss of sense of smell as marker of COVID-19 infection
March 20, 2020
Lianhuaqingwen exerts anti-viral and anti-inflammatory activity against novel coronavirus (SARS-CoV-2)
LH significantly inhibits the SARS-COV-2 replication, affects virus morphology and exerts anti-inflammatory activity in vitro. These findings indicate that LH protects against the virus attack, making its use a novel strategy for controlling the COVID-19 disease.
People who are at higher risk for severe illness
Interim Guidance for Businesses and Employers to Plan and Respond to Coronavirus Disease 2019 (COVID-19)
Telehealth for global emergencies: Implications for coronavirus disease 2019 (COVID-19)
Hypothesis for potential pathogenesis of SARS-CoV-2 infection--a review of immune changes in patients with viral pneumonia
Treatment for severe acute respiratory distress syndrome from COVID-19
Planning and provision of ECMO services for severe ARDS during the COVID-19 pandemic and other outbreaks of emerging infectious diseases
COVID-19 and the liver: little cause for concern
Rational use of face masks in the COVID-19 pandemic
COVID-19: protecting health-care workers
Is COVID-19 A Bigger Threat than Flu?
March 19, 2020
A review of the 2019 Novel Coronavirus (COVID-19) based on current evidence
Systematically summarizes the epidemiology, clinical characteristics, diagnosis, treatment and prevention of knowledge surrounding COVID-19.
Characteristics and Outcomes of 21 Critically Ill Patients With COVID-19 in Washington State
Probable Pangolin Origin of SARS-CoV-2 Associated with the COVID-19 Outbreak
Partha Kar: Covid-19-we must keep faith in our experts
CT appearance of severe, laboratory-proven coronavirus disease 2019 (COVID-19) in a Caucasian patient in Berlin, Germany
Securing the Safety Net and Protecting Public Health During a Pandemic
Use of antiviral drugs to reduce COVID-19 transmission
Estimation of COVID-19 outbreak size in Italy
Viral dynamics in mild and severe cases of COVID-19
March 18, 2020
Hypothesis: angiotensin-converting enzyme inhibitors and angiotensin receptor blockers may increase the risk of severe COVID-19
A Trial of Lopinavir–Ritonavir in Adults Hospitalized with Severe Covid-19
Presidential Powers and Response to COVID-19
March 17, 2020
Updated: WHO Now Doesn't Recommend Avoiding Ibuprofen For COVID-19 Symptoms
Aminoquinolines Against Coronavirus Disease 2019 (COVID-19): Chloroquine or Hydroxychloroquine
Coronavirus Disease 2019 (COVID-19) in Italy
Aerosol and Surface Stability of SARS-CoV-2 as Compared with SARS-CoV-1
CDC Expert Answers Top COVID-19 Questions
Clinical course and mortality risk of severe COVID-19
Prevention of SARS-CoV-2 infection in patients with decompensated cirrhosis
COVID-19 in pregnant women – Authors' reply
Epidemiology, causes, clinical manifestation and diagnosis, prevention and control of coronavirus disease (COVID-19) during the early outbreak period: a scoping review
March 16, 2020
On the front lines of coronavirus: the Italian response to covid-19
Coronavirus Testing – March 16 Q&A with the CDC's Jay Butler, MD
COVID-19 in Seattle: Clinical Features and Managing the Outbreak
Investigation of three clusters of COVID-19 in Singapore: implications for surveillance and response measures
COVID-19: consider cytokine storm syndromes and immunosuppression
COVID-19: the need for continuous medical education and training
A Sequence Homology and Bioinformatic Approach Can Predict Candidate Targets for Immune Responses to SARS-CoV-2
March 13, 2020
First known person-to-person transmission of severe acute respiratory syndrome coronavirus 2 (SARS-CoV-2) in the USA
From Containment to Mitigation of COVID-19 in the US
Coronavirus in Italy – March 13 Q&A with ICU Physician Maurizio Cecconi of Humanitas University  JAMA Video Interview
COVID-19, ECMO, and lymphopenia: a word of caution
From Containment to Mitigation of COVID-19 in the US
The Effect of the COVID-19 Pandemic on Clinic Operations
Critical Care Utilization for the COVID-19 Outbreak in Lombardy, Italy: Early Experience and Forecast During an Emergency Response
March 12, 2020
Supporting the Health Care Workforce During the COVID-19 Global Epidemic
A comparative study on the clinical features of COVID-19 pneumonia to other pneumonias
March 11, 2020
Are patients with hypertension and diabetes mellitus at increased risk for COVID-19 infection?
Early dynamics of transmission and control of COVID-19: a mathematical modelling study
Clinical course and risk factors for mortality of adult inpatients with COVID-19 in Wuhan, China: a retrospective cohort study
Detection of SARS-CoV-2 in Different Types of Clinical Specimens
March 4, 2020
Air, Surface Environmental, and Personal Protective Equipment Contamination by Severe Acute Respiratory Syndrome Coronavirus 2 (SARS-CoV-2) From a Symptomatic Patient
March 3, 2020
Epidemiologic Features and Clinical Course of Patients Infected With SARS-CoV-2 in Singapore
Response to COVID-19 in Taiwan: Big Data Analytics, New Technology, and Proactive Testing
See important LSU Healthcare Network COVID-19 information and updates, as well as how to request a patient appointment at the buttons below.
COVID-19 Updates
Request an Appointment
General Information and Guidance
Louisiana Coronavirus (COVID-19) Case Count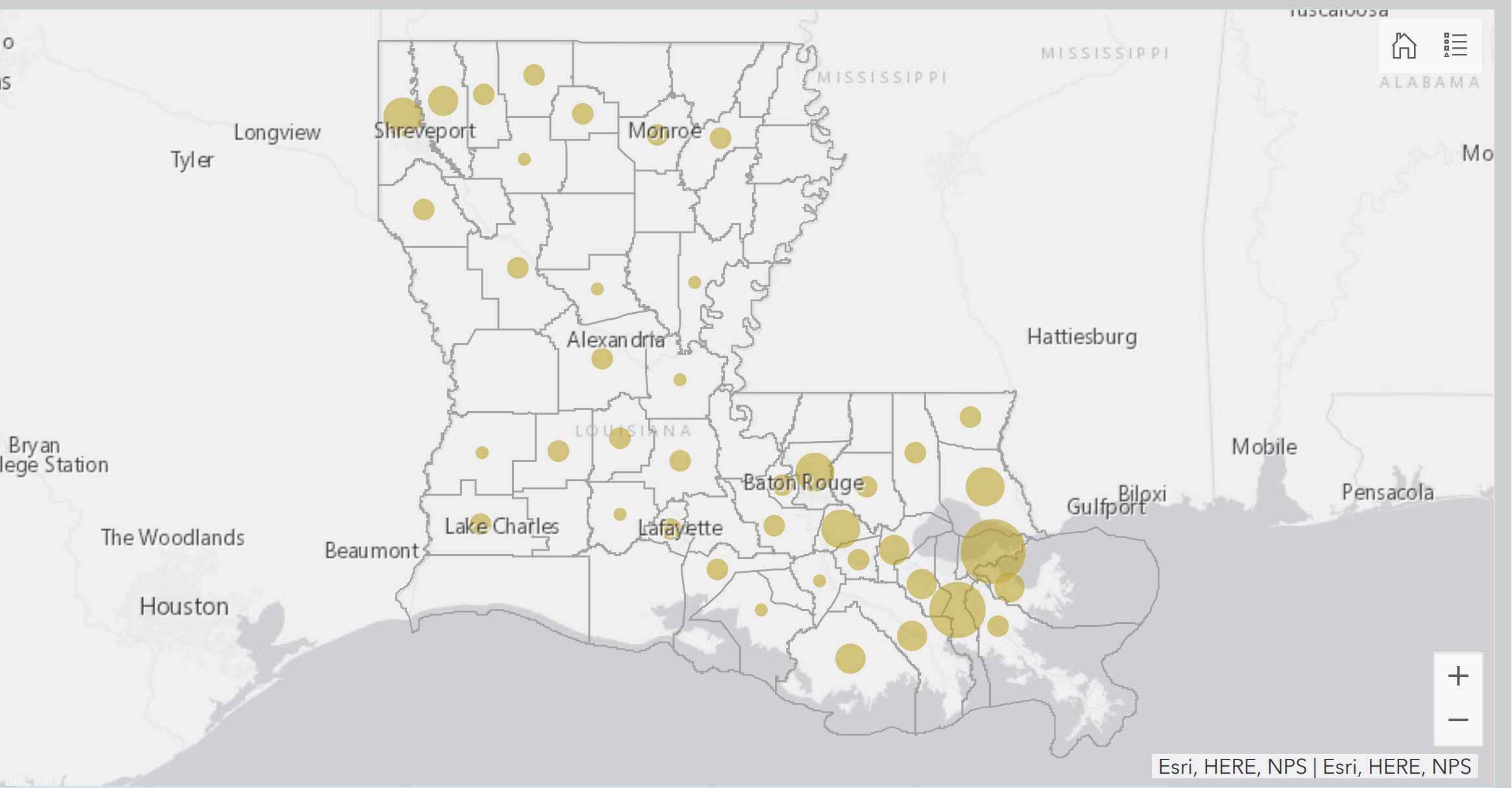 Louisiana Department of Health
Directives
Routine, Non-essential Dental Procedures
Louisiana Department of Health COVID-19 Information Updates
Bulletins
Informational Bulletin 20-6: COVID-19 – LMHP Telemedicine/Telehealth
Informational Bulletin 20-5: COVID-19 Provider Update
Informational Bulletin 20-4: COVID-19 – MHR Telemedicine/Telehealth
Press Releases
State of Louisiana COVID-19 Data Models Show Thousands of New Hospitalizations Daily Without Effective Social Distancing Measures - 4/3/2020
Department of Health Reports More than 2,500 Additional COVID-19 Cases, Most from Commercial Labs – 4/2/2020
Louisiana Department of Health Updates for 4/1/2020
Louisiana Department of Health Updates for 3/31/2020
Louisiana Department of Health Updates for 3/30/2020
Louisiana Department of Health Updates for 3/29/2020
Louisiana Department of Health Updates for 3/28/2020
Louisiana Department of Health Updates for 3/27/2020
Louisiana Department of Health Updates for 3/26/2020
Louisiana Department of Health Updates for 3/25/2020
Louisiana Department of Health Updates for 3/24/2020
Louisiana Department of Health Updates for 3/23/2020
Louisiana Department of Health Updates for 3/22/2020
Gov. Edwards Issues Statewide Stay at Home Order to Further Fight the Spread of COVID-19 in Louisiana
Emergency Order: Tattoo/Body Art Closures COVID-19
Gov. Edwards Thanks Healthcare Workers and Releases New PSA Urging Louisianans to Help Slow the Spread of COVID-19
---
CovidActNow.org was created by a team of data scientists, engineers, and designers in partnership with epidemiologists, public health officials, and political leaders to help understand how the COVID-19 pandemic will affect their region. This tool is built to enable political leaders to quickly make decisions in their Coronavirus response informed by best available data and modeling.
Convalescent plasma transfusion shows promise for severely ill patients with COVID-19
Preliminary research has shown the potential of convalescent plasma therapy to improve clinical outcomes of patients with severe disease related to COVID-19.
Endocrinologists warn of increased COVID-19 complication risks with glucocorticoid use
Adults who are prescribed glucocorticoid therapy for common conditions, such as asthma, allergies and arthritis, as well as individuals with adrenal insufficiency, are at high risk for developing serious complications from COVID-19 due to an inability to mount a normal stress response, according to an editorial published in the Journal of Clinical Endocrinology & Metabolism.\
Medical Companies Win Approval for Rapid Coronavirus Tests
Starting this week, Abbott Laboratories ABT +1.46% plans to make a rapid test available for use in physicians' offices, urgent-care clinics and other settings through an Abbott device. The test can detect the virus in a patient sample in as few as five minutes and return negative results in 13 minutes.
FDA approved 3 additional kits today (2 PCR, 1 RAPID), 31 March 2020. Total registered COVID-19 Test Kits for commercial use is now 26.
FDA approved 3 additional kits today (2 PCR, 1 RAPID), 31 March 2020. Total registered COVID-19 Test Kits for commercial use is now 26. Click this link for details.
Johnson & Johnson announces lead COVID-19 vaccine candidate
Johnson & Johnson today announced the selection of a lead COVID-19 vaccine candidate from constructs it had been working on since January 2020, with expected initiation of human clinical studies by September 2020 at the latest.
Q&A: Telepsychiatry plays vital role in combating mental health effects of COVID-19
The novel coronavirus pandemic has led to numerous quarantine and social isolation measures throughout the United States and the world. Thus, psychiatric patients may be unable to attend an in-person appointment with their clinician.
CMS eases requirements for transferring non-COVID-19 infected patients
During a White House Rose Garden event, CMS Administrator Seema Verma unveiled the hospitals without walls program.
"Under the CMS's temporary new rules, hospitals will be able to transfer patients to outside facilities, such as ambulatory surgery centers, inpatient rehabilitation hospitals, hotels, and dormitories, while still receiving hospital payments under Medicare. For example, a healthcare system can use a hotel to take care of patients needing less intensive care while using its inpatient beds for COVID-19 patients," CMS noted in a press release.
Limited testing poses challenges to mapping COVID-19 spread
But how to accurately display and project the spread of the disease has proven difficult, particularly given the limited number of tests available to confirm where cases of COVID-19 actually are.
Coronavirus outbreak: NYU, Chinese researchers develop AI tool to predict severe COVID-19 cases
Researchers have created an artificial intelligence tool that may help physicians predict which patients will develop severe lung disease, even if they initially have a mild case of the novel coronavirus.
In a study published in Computers, Materials & Continua, NYU and Chinese researchers used data from a small group of COVID-19 patients in two Chinese hospitals.They found that patients with mildly elevated liver enzymes and body aches were most likely to develop acute respiratory distress syndrome.
Coronavirus Test Tracker: Commercially Available COVID-19 Diagnostic Tests
As labs and diagnostic developers race to meet demand for assays to detect the SARS-CoV-2 coronavirus, 360Dx is updating this tracker on a regular basis in order to provide readers with up-to-date and accurate information on the regulatory status of these tests in the US, European, and Asian markets.
The tracker includes only those tests that are available for diagnostic use. Links to primary regulatory decisions are provided where available.
AHA launches "100 Million Mask Challenge" to aid front line health professionals
The American Hospital Association (AHA) today announced a national initiative to secure millions of masks for the physicians, nurses and caregivers who are treating coronavirus patients and at greater risk due to a nationwide shortage of personal protective equipment. The effort will facilitate private sector partnerships to address these shortages in the fight against COVID-19. 
AHA Urges HHS to Clarify EMTALA, HIPAA Waivers
The AHA March 24 urged the Department of Health and Human Services to clarify the Emergency Medical Treatment and Labor Act and Health Insurance Portability and Accountability Act waivers issued under the public health and national emergency declarations.
AHA Comments to Department of Labor on the Families First Coronavirus Response Act
The AHA has asked the Department of Labor to accurately define "health care provider" as it promulgates regulations implementing key sections of the recently-enacted Families First Coronavirus Response Act and clarify how this policy will be operationalized, including how it interacts with state law.
COVID-19 Drug Therapy –Potential Options
NETEC: Personal Protective Equipment for 2019 Novel Coronavirus (COVID-19)
Information from LabCorp about Coronavirus Disease 2019 (COVID-19)
Quest Diagnostics Testing for COVID-19
Coronavirus 2019-nCoV Global Cases by Johns Hopkins CSSE
National Institutes of Health Coronavirus
World Health Organization, Coronavirus