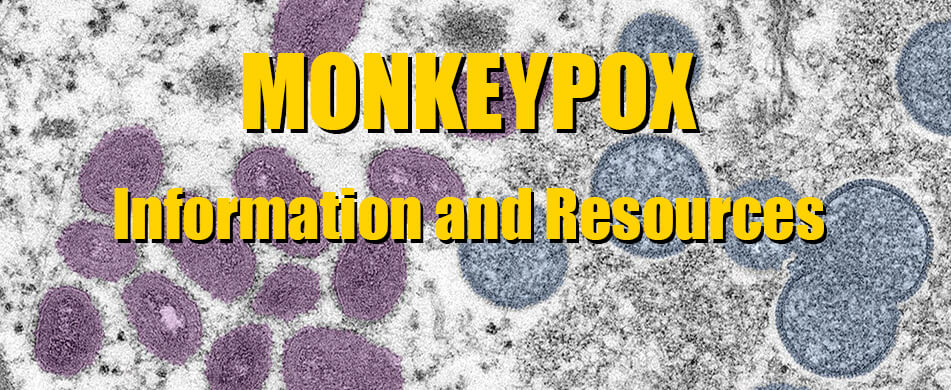 Monkeypox News Stories
LSU Health New Orleans News Articles
As Southern Decadence approaches, health officials look to wastewater to measure impact on monkeypox
"The whole thing with Southern Decadence will be very interesting," said Dr. Julio Figueroa, professor and chief of infectious diseases at LSU Health New Orleans. "It will be interesting to see how much of that spike goes away after Decadence."
'Not something to play around with:' Experts explain monkeypox
Edward Trapido is a professor of epidemiology, associate dean for research at LSU Health New Orleans and a member of the university's Medical and Health Advisory Committee. He believes it's hard to imagine there won't be a monkeypox outbreak on LSU's campuses.
What's The Latest On Covid-19 and Monkeypox?
Dr Fred Lopez joins Tommy to talk about the latest trends on covid-19 and how is monkeypox being contained.
Monkeypox: What we know…. What we need to know; LSU Health New Orleans hosts class
LSU Health New Orleans School of Medicine will host a special Grand Rounds with the latest and detailed information about monkeypox, declared a Global Public Health Emergency. Monkeypox: What we know…. What we need to know is scheduled for Friday, August 5, 2022, from 12:00 noon – 1:00 p.m. on LSU Health New Orleans' downtown campus in the first-floor Lecture Room A of the Medical Education Building, 1901 Perdido Street.
Monkeypox Radio News Stories
LSU health New Orleans school of medicine is hosting an event today to update healthcare professionals on monkey pox now declared a health emergency in the US infectious disease professor Dr. Michael Hagensee says they'll look at the recent spread of the virus.
Monkeypox Originated in Animals. Could It Spill Back Into Them?
"Kids in Germany and France wanted pet rodents, just like the kids in the US in 2003, and that began a trade of potentially infected animals into Germany and France," says James Diaz, a physician and professor at Louisiana State University's School of Public Health who has written scientific assessments of rodents as transporters of disease.
First case of monkeypox confirmed in Louisiana, health officials say
The isolated location of the pustular lesions may have caused confusion as to whether monkeypox was another disease, said Dr. Julio Figueroa, chief of infectious disease at LSU Health New Orleans.
Monkeypox vaccines exist, but they're limited
LSU infectious disease professor Dr. Julio Figueroa says there are two vaccines, but one requires special handling, and the other is in short supply.
LSU Health New Orleans News Videos
August 25, 2022 Dr. Fred Lopez on Monkeypox WWL-TV 9:00 AM
August 23, 2022 Dr. Fred Lopez Monkeypox WWL-TV 9:00 AM
August 18, 2022 Dr. Fred Lopez Monkeypox and Polio WWL-TV 8:00 AM
August 5, 2022 LSU Health Monkeypox Grand Rounds WWL-TV 7:00 AM
August 5, 2022 LSU Health Monkeypox Grand Rounds WDSU-TV 6:00 AM
August 5, 2022 LSU Health Monkeypox Grand Rounds WWL-TV 6:00 AM
August 5, 2022 LSU Health Monkeypox Grand Rounds WDSU-TV 5:00 AM
August 4, 2022 Dr. Fred Lopez Monkeypox in Children WWL-TV, 6:00 AM
August 3, 2022 Dr. Fred Lopez Monkeypox in Children WWL-TV, 12:00 PM
August 3, 2022 Dr. Fred Lopez Monkeypox in Children WWL-TV, 8:00 AM
August 3, 2022 Dr. Julio Figueroa Monkeypox Update WVUE-TV, Fox 8 7:00 AM
August 3, 2022 Dr. Fred Lopez Monkeypox in Children WWL-TV, 6:00 AM
August 2, 2022 Dr. Julio Figueroa Monkeypox Update WVUE-TV, Fox 8 9:00 PM
July 29, 2022 Dr. Julio Figueroa Monkeypox Update WDSU-TV 6:00 PM
July 18, 2022 Dr. Fred Lopez Monkeypox WVUE-TV, Fox 8 12:00 PM
July 8, 2022 Dr. Julio Figueroa Monkeypox WWL-TV 12:00 PM
July 8, 2022 Dr. Julio Figueroa Monkeypox WWL-TV 8:00 AM
July 8, 2022 Dr. Julio Figueroa Monkeypox WWL-TV 7:00 AM
July 8, 2022 Dr. Julio Figueroa Monkeypox WWL-TV 5:00 AM
July 7, 2022 Dr. Julio Figueroa Monkeypox WWL-TV 10:00 PM
May 24, 2022 Dr. Fred Lopez Monkeypox WWL-TV 8:00 AM