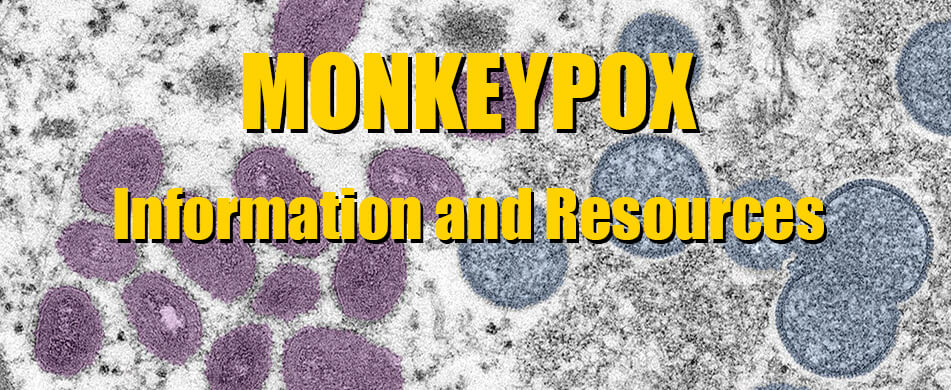 Publications
December 20, 2022
Monkeypox outbreak: epidemiological overview
Overview of the current mpox (monkeypox) outbreak in the UK.
December 15, 2022
Structure of monkeypox virus DNA polymerase holoenzyme
The World Health Organization announced mpox (or monkeypox) as a public health emergency of international concern in July 2022, and prophylactic and therapeutic measures are in urgent need. The monkeypox virus (MPXV) has its own DNA polymerase F8, together with the processive cofactors A22 and E4, constituting the polymerase holoenzyme for genome replication. Here, we determined the holoenzyme structure in complex with DNA using cryo-electron microscopy at the global resolution of ~2.8 Å. The holoenzyme possesses an architecture that suggests a "forward sliding clamp" processivity mechanism for viral DNA replication. MPXV polymerase has a similar DNA binding mode to other B-family DNA polymerases from different species. These findings reveal the mechanism of the MPXV genome replication and may guide the development of anti-poxvirus drugs.
December 12, 2022
Human monkeypox: a comparison of the characteristics of the new epidemic to the endemic disease
In May 2022, a new global outbreak of mpox (formerly, human monkeypox) emerged that was declared a public health emergency of international concern by the World Health Organization on July 23, 2022. With new patterns of person-to-person spread within sexual networks in nonendemic countries and several differences from the classic disease course, we performed a comprehensive review of existing literature on human monkeypox to discuss epidemiology, modes of transmission, clinical presentation and asymptomatic infection, diagnostics, therapeutics, and vaccines with the primary aim to identify important areas for future research of this new epidemic form of the disease. A comprehensive literature search was performed of all published literature to August 15, 2022. Historically, in regions of monkeypox virus endemicity, human outbreaks have occurred related to discrete zoonotic events. The animal reservoir is unknown, but the virus has been isolated from rodents. Traditionally, transmission occurred by direct or indirect contact with an infected animal. In nonendemic countries affected in the 2022 outbreak, almost exclusive person-to-person spread has been observed, and most cases are connected to sexual networks of gay, bisexual, and other men who have sex with men. After an incubation period of approximately 13 days, in traditional human cases affected persons developed a febrile prodrome preceding a rash that started on the face and body, spread centrifugally to the palms and soles and healed monomorphically over two to four weeks. However, in the 2022 outbreak, the febrile illness is often absent or occurs after the onset of the rash. The rash presents primarily in the anogenital region and face before disseminating throughout the body, with lesions displaying regional pleomorphism. There is a paucity of data for the role of antiviral agents or vaccines. The epidemiology and clinical course of mpox has changed in the 2022 epidemic from that observed with the endemic disease. There is an urgent need to establish rapid and collaborative research platforms to diagnose, treat and prevent disease and inform important public health and other strategies to stop the spread of disease.
December 2022
Mutations in the monkeypox virus replication complex: Potential contributing factors to the 2022 outbreak
Attributes contributing to the current monkeypox virus (MPXV) outbreak remain unknown. It has been established that mutations in viral proteins may alter phenotype and pathogenicity. To assess if mutations in the MPXV DNA replication complex (RC) contribute to the outbreak, we conducted a temporal analysis of available MPXV sequences to identify mutations, generated a DNA replication complex (RC) using structures of related viral and eukaryotic proteins, and structure prediction method AlphaFold. Ten mutations within the RC were identified and mapped onto the RC to infer role of mutations. Two mutations in F8L (RC catalytic subunit), and two in G9R (a processivity factor) were ∼100% prevalent in the 2022 sequences. F8L mutation L108F emerged in 2022, whereas W411L emerged in 2018, and persisted in 2022. L108 is topologically located to enhance DNA binding affinity of F8L. Therefore, mutation L108F can change the fidelity, sensitivity to nucleoside inhibitors, and processivity of F8L. Surface exposed W411L likely affects the binding of regulatory factor(s). G9R mutations S30L and D88 N in G9R emerged in 2022, and may impact the interaction of G9R with E4R (uracil DNA glycosylase). The remaining six mutations that appeared in 2001, reverted to the first (1965 Rotterdam) isolate. Two nucleoside inhibitors brincidofovir and cidofovir have been approved for MPXV treatment. Cidofovir resistance in vaccinia virus is achieved by A314T and A684V mutations. Both A314 and A684 are conserved in MPXV. Therefore, resistance to these drugs in MPXV may arise through similar mechanisms.
November 28, 2022
Maximizing the impact of limited vaccine supply under different early epidemic conditions: a 2-city modelling analysis of monkeypox virus transmission among men who have sex with men
Under our modelling assumptions, we found that a limited MPXV vaccine supply could generally avert more early infections when prioritized to networks that were larger, had more initial infections or had greater R0. Greater between-city mixing decreased the influence of initial seed cases and increased the influence of city R0 on optimal allocation. Under mixed conditions (e.g., fewer seed cases but greater R0), optimal allocation required doses shared between cities.
November 24, 2022
Monitoring monkeypox virus in saliva and air samples in Spain: a cross-sectional study
The identification of high viable monkeypox virus loads in saliva in most patients with monkeypox and the finding of monkeypox virus DNA in droplets and aerosols warrants further epidemiological studies to evaluate the potential relevance of the respiratory route of infection in the 2022 monkeypox virus outbreak.
November 23, 2022
Monkeypox virus quadrivalent mRNA vaccine induces antibody responses and cellular immunity and protects mice against Vaccinia virus
There is an urgent need for efficient and safe vaccines against the monkeypox virus (MPXV) in response to the rapidly spreading monkeypox epidemic. In the age of COVID-19, mRNA vaccines have been highly successful and emerged as platforms enabling rapid development and large-scale preparation. Here, we have developed two MPXV quadrivalent mRNA vaccines, named mRNA-A-LNP and mRNA-B-LNP, based on two IMVs (A29L and M1R) and two EEVs (A35R and B6R). By administering mRNA-A-LNP and mRNA-B-LNP intramuscularly twice, mice have induced MPXV-specific IgG antibodies and potent Vaccinia virus (VACV)-specific neutralizing antibodies. Additionally, it elicited durable MPXV-specific killer memory T-cell immunity as well as memory B-cell immunity in mice. Furthermore, the passive transfer of sera from mRNA-A-LNP and mRNA-B-LNP-immunized mice protected nude mice against the VACV challenge. In addition, two doses of mRNA-A-LNP and mRNA-B-LNP were also protective against the VACV challenge in mice. Overall, our results demonstrated that mRNA-A-LNP and mRNA-B-LNP appear to be safe and effective vaccine candidates against monkeypox epidemics, as well as against outbreaks caused by other orthopoxviruses, including the smallpox virus.
FDA, CDC experts: What physicians need to know—TPOXX and monkeypox, Part 2
Experts from the FDA and CDC continue their discussion on tecovirimat, or TPOXX, for the treatment of monkeypox in infected individuals. In part two of this mini-series, experts answer physicians' questions about treatment for monkeypox.
November 22, 2022
Effectiveness of one dose of MVA-BN smallpox vaccine against monkeypox in England using the case-coverage method
Vaccine uptake among eligible GBMSM increased steadily from July 2022, reachingb47% by 9 October 2022. Of the 363 confirmed cases, 8 occurred ≥14 days afterbvaccination, 32 within 0 to 13 days after vaccination, and the rest were unvaccinated. The estimated vaccine effectiveness ≥14 days after a single dose was 78% (95% CI: 54%-89%), with a range of ±7% in sensitivity analyses. Vaccine effectiveness within 0 to 13-days after vaccination was -4% (95% CI: -50% to 29%).
November 18, 2022
Structural basis for the inactivation of cytosolic DNA sensing by the vaccinia virus
Detection of cytosolic DNA is a central element of the innate immunity system against viral infection. The Ku heterodimer, a component of the NHEJ pathway of DNA repair in the nucleus, functions as DNA sensor that detects dsDNA of viruses that replicate in the cytoplasm. Vaccinia virus expresses two proteins, C4 and C16, that inactivate DNA sensing and enhance virulence. The structural basis for this is unknown. Here we determine the structure of the C16 – Ku complex using cryoEM. Ku binds dsDNA by a preformed ring but C16 sterically blocks this access route, abrogating binding to a dsDNA end and its insertion into DNA-PK, thereby averting signalling into the downstream innate immunity system. C4 replicates these activities using a domain with 54% identity to C16. Our results reveal how vaccinia virus subverts the capacity of Ku to recognize viral DNA.
November 17, 2022
Efficient Inactivation of Monkeypox Virus by World Health Organization‒Recommended Hand Rub Formulations and Alcohols
Increasing nonzoonotic human monkeypox virus (MPXV) infections urge reevaluation of inactivation strategies. We demonstrate efficient inactivation of MPXV by 2 World Health Organization‒recommended alcohol-based hand rub solutions. When compared with other (re)emerging enveloped viruses, MPXV displayed the greatest stability. Our results support rigorous adherence to use of alcohol-based disinfectants.
Human monkeypox virus infection in women and non-binary individuals during the 2022 outbreaks: a global case series
Between May and November, 2022, global outbreaks of human monkeypox virus infection have been reported in more than 78 000 people worldwide, predominantly in men who have sex with men. We describe the epidemiological and clinical characteristics of monkeypox virus infection in cisgender (cis) and transgender (trans) women and non-binary individuals assigned female sex at birth to improve identification and understanding of risk factors.
November 16, 2022
Roche receives U.S. FDA Emergency Use Authorization for its high-throughput test to detect monkeypox virus
Roche (SIX: RO, ROG; OTCQX: RHHBY) announced today that the U.S. Food and Drug Administration (FDA) granted Emergency Use Authorization (EUA) for cobas® MPXV for use on the cobas® 6800/8800 Systems. The test is a real-time PCR test for the qualitative detection of DNA from monkeypox virus (MPXV) in lesion swabs collected from individuals suspected of monkeypox infection by their healthcare provider.
November 15, 2022
Accumulation of immunity in heavy-tailed sexual contact networks shapes monkeypox outbreak sizes
Many countries affected by the global outbreak of monkeypox in 2022 have observed a decline in cases. Our mathematical model incorporating empirical estimates of the heavy-tailed sexual partnership distribution among men who have sex with men (MSM) suggests that monkeypox epidemics can hit the infection-derived herd immunity threshold and begin to decline with less than 1% of sexually active MSM population infected regardless of interventions or behavioural changes. Consistently, we found that many countries and US states experienced an epidemic peak with cumulative cases of around 0.1-0.7% of MSM population. The observed decline in cases may not necessarily be attributable to interventions or behavioural changes primarily, although continuing these approaches in the most effective manner is still warranted to minimise total epidemic size.
November 14, 2022
Cardiac Events Following JYNNEOS Vaccination for Prevention of Monkeypox
We conducted a retrospective cohort study of 2,126 KPNW patients aged 12 or older who were vaccinated with at least 1 dose of JYNNEOS vaccine between July 14th 2022 and October 10th 2022. We searched KPNW databases, including the electronic health record (EHR), for diagnoses of elevated troponins, chest pain, myocarditis, pericarditis, myopericarditis, acute myocardial infarction, cardiac dysrhythmia, cardiac arrest, or ventricular fibrillation that were documented during any encounter (visit) using ICD-10-CM diagnosis codes. Two KPNW physicians reviewed all possible cases in the EHR to adjudicate cases as cardiac AESIs in alignment with the case definition used in the FDA safety data. Results: There were 2,126 KPNW members who received a total of 3,235 JYNNEOS vaccine doses between July 14th and October 10th. Encounter ICD10 diagnosis codes and troponin values identified 24 possible cardiac AESI cases. After physician adjudication, there were 10 confirmed cardiac AESI for an incidence of 3.1 per 1000 doses given with (exact 95% CI, 1.5 to 5.7). Of these 10 events, none could be attributed directly to the vaccination. Conclusion: The incidence of cardiac adverse events following JYNNEOS vaccination for prevention of monkeypox is unknown and this is the first study to evaluate cardiac AESI following JYNNEOS vaccination in the 2022 monkeypox public health emergency. This retrospective cohort study of JYNNEOS vaccination for prevention of monkeypox identified 10 cardiac events that all had alternative explanations; and no hospitalizations or serious adverse outcomes were attributed to vaccination. This initial study provides timely information for the clinician counseling their patient with underlying cardiac risk factors on the low observed risk of cardiac events with JYNNEOS vaccination during the 2022 monkeypox public health emergency.
Evaluation and Clinical Validation of Monkeypox Virus Real-Time PCR Assays
BACKGROUND: In spring of 2022, an outbreak of monkeypox spread worldwide. Here, we describe performance characteristics of monkeypox virus (MPXV)-specific and pan-orthopoxvirus qPCR assays for clinical use. METHODS: We validated probe-based qPCR assays targeting MPXV-specific loci F3L and G2R (genes MPXVgp052/OPG065 and MPXVgp002 and gp190/OPG002, respectively) and a pan-orthopoxvirus assay targeting the E9L locus (MPXVgp057/OPG071). Clinical samples and synthetic controls were extracted using the Roche MP96 or Promega Maxwell 48 instrument. qPCR was performed on the AB7500 thermocycler. Synthetic control DNA and high concentration clinical samples were quantified by droplet PCR. Cross-reactivity was evaluated for camelpox and cowpox genomic DNA, vaccinia culture supernatant, and HSV- and VZV-positive clinical specimens. We also determined analytical performance of the F3L assay using dry swabs, Aptima vaginal and rectal swabs, nasopharyngeal, rectal, and oral swabs, cerebrospinal fluid, plasma, serum, whole blood, breastmilk, urine, saliva, and semen. RESULTS: The MPXV-F3L assay is reproducible at a limit of detection (LoD) of 65.6 copies/mL of viral DNA in VTM/UTM, or 3.3 copies/PCR reaction. No cross-reactivity with herpesviruses or other poxviruses was observed. MPXV-F3L detects MPXV DNA in alternative specimen types, with an LoD ranging between 260-1000 copies/mL, or 5.7-10 copies/PCR reaction. In clinical swab VTM specimens, MPXV-F3L and MPXV-G2R assays outperformed OPXV-E9L by an average of 2.4 and 2.8 Cts, respectively. MPXV-G2R outperformed MPXV-F3L by 0.4 Cts, consistent with presence of two copies of G2R present in labile inverted terminal repeats (ITRs) of MPXV genome. CONCLUSIONS: MPXV is readily detected by qPCR using three clinically validated assays.
November 12, 2022
Evaluating the accuracy of self-collected swabs for the diagnosis of monkeypox
We evaluated the accuracy of patient-collected skin lesions, oropharyngeal, and rectal swabs amongst 50 individuals enrolled in a study of monkeypox viral dynamics. We found that the performance of self-collected samples was similar to that of physician-collected samples, suggesting that self-sampling is a reliable strategy for diagnosing monkeypox.
November 11, 2022
Epidemiologic Features of the Monkeypox Outbreak and the Public Health Response — United States, May 17–October 6, 2022
CDC's emergency response focused on surveillance, laboratory testing, medical countermeasures, and education. A total of 26,384 U.S. monkeypox cases were reported during May 17–October 6, 2022. Among 59% of persons with data on gender and recent sexual or close intimate contact, 70% reported recent male-to-male sexual contact. Black and Hispanic persons continue to be disproportionately affected.
November 10, 2022
Evaluating the use of dose-sparing vaccination strategies for Monkeypox
The spring-summer 2022 monkeypox outbreak had over 50,000 cases globally, most of them in gay, bisexual, and other men who have sex with men (MSM). In response to vaccine shortages, several countries implemented dose-sparing vaccination strategies, stretching a full-dose vaccine vial in up to 5 fractional-dose vaccines. Recent studies have found mixed results regarding the effectiveness of the monkeypox vaccine, raising the question of the utility of dose-sparing strategies. We used an age- and risk-stratified mathematical model of an urban MSM population in the United States with approximately 12% high-risk MSM to evaluate potential benefits from implementing dose-sparing vaccination strategies in which a full dose is divided in 3.5 fractional-doses. We found that results strongly depend on the fractional-dose vaccine effectiveness (VE) and vaccine supply. With very limited vaccine available, enough to protect with a full-dose approximately one-third of the high-risk population, dose-sparing strategies are more beneficial provided that fractional-dose preserved at least 40% of full dose effectiveness (34% absolute VE), projecting 13% (34% VE) to 70% (68% absolute VE) fewer infections than full-dose strategies. In contrast, if vaccine supply is enough to cover the majority of the high-risk population, dose-sparing strategies can be outperformed by full-dose strategies. Scenarios in which fractional-dosing was 34% efficacious result in almost three times more infections than full-dosing. Our analysis suggests that when monkeypox vaccine supply is limited and fractional-dose vaccination retains moderate effectiveness, there are meaningful health benefits from providing a smaller dose to a larger number of people in the high-risk population.
Monkeypox virus was first isolated in late 1958 in Copenhagen during two outbreaks of a smallpox-like disease in a colony of cynomolgus monkeys.1 No clinical signs were noted before the eruptive phase of the disease, which was characterized by a maculopapular rash. The virus was named monkeypox virus because of its close similarity to other known poxviruses.
November 9, 2022
Epidemiological and clinical characteristics of patients with human monkeypox infection in Mexico: A nationwide observational study
Five-hundred and sixty-five human monkeypox confirmed cases were analysed; 97.2% were men, of whom 59.5% identified as men who have sex with men, and 54.5% had human immunodeficiency virus infection. The median age was 34 years. All patients but one had rash (99.8%), 78.9% had fever, and 47.8% reported myalgia. The anogenital area was the most commonly affected one by rash (49.6%), and proctitis occurred in 6.2% of patients. Six patients required hospitalization, of which one died due to causes unrelated to monkeypox.
November 8, 2022
Monkeypox outbreak: epidemiological overview, 8 November 2022
Monkeypox is a zoonotic infection, caused by the monkeypox virus, that occurs mostly in West and Central Africa. Previous cases in the UK had been either imported from countries where monkeypox is endemic or contacts with documented epidemiological links to imported cases. Between 2018 and 2021, there had been 7 cases of monkeypox in the UK. Of these, 4 were imported, 2 were cases in household contacts, and one was a case in a health care worker involved in the care of an imported case. There was no documented community transmission in previous outbreaks.
November 7, 2022
Immunological signature in human cases of monkeypox infection in 2022 outbreak: an observational study
Our data showed the immunological signature of monkeypox virus infection, characterised by an early expansion of activated effector CD4+ and CD8+ T cells that persisted over time. Almost all patients, even regardless of HIV infection, developed a poxvirus-specific Th1 cell response. These results might have implications on the expected immunogenicity of monkeypox vaccination, suggesting that it might not be necessary to vaccinate people who have already been infected.
November 6, 2022
Monkeypox and ocular implications in humans
Monkeypox is a viral zoonotic infection with some characteristics bearing resemblance to smallpox. Monkeypox was first isolated in Denmark in the late 1950s from a colony of laboratory monkeys used for polio virus research, and first identified as a cause of disease in humans in the 1970s in the Democratic Republic of the Congo [1]. The current outbreak could be related to the loss of vaccine-derived immunity following the discontinuation of routine smallpox vaccination, which offered previous cross-protection against monkeypox and reduced human-to-human transmission. In 2022, there was a new global outbreak of monkeypox infection, first reported in Europe in May 2022 [2]. It has since spread to more than 50 countries across five regions, with more than 3000 cases of monkeypox infections being reported. On July 23, 2022, the World Health Organization declared the outbreak of monkeypox as an international public health emergency.
November 4, 2022
Epidemiologic and Clinical Features of Children and Adolescents Aged <18 Years with Monkeypox — United States, May 17–September 24, 2022
During May 17–September 24, 2022, Monkeypox virus (MPXV) infections in children and adolescents aged <18 years were rare, representing 0.3% of all U.S. cases; none resulted in critical illness or death. Younger children typically acquired MPXV infection after skin-to-skin contact with a household member with monkeypox during caregiving activities; adolescents were most frequently exposed through male-to-male sexual contact.
Severe Monkeypox in Hospitalized Patients — United States, August 10–October 10, 2022
During August–October 2022, CDC provided clinical consultation for 57 hospitalized patients with severe manifestations of monkeypox, most of whom were Black men with AIDS. Delays were observed in initiation of monkeypox-directed therapies. Twelve patients died, and monkeypox was a cause of death or contributing factor in five patients to date, with several other deaths still under investigation.
November 2, 2022
Transmission dynamics of monkeypox in the United Kingdom: contact tracing study
Analysis of the instantaneous growth rate of monkeypox incidence indicates that the epidemic peaked in the UK as of 9 July and then started to decline. Short serial intervals were more common than short incubation periods suggesting considerable pre-symptomatic transmission, which was validated through linked patient level records. For patients who could be linked through personally identifiable data, four days was the maximum time that transmission was detected before symptoms manifested. An isolation period of 16 to 23 days would be required to detect 95% of people with a potential infection. The 95th centile of the serial interval was between 23 and 41 days, suggesting long infectious periods.
The dynamics of monkeypox transmission
After a surge of monkeypox infections starting in May 2022, with more than 70 000 cases globally—including 99% from countries without previous known endemic spread—by the end of August 2022, new infections started to trend downward.12 Whether this marks the end of the outbreak or whether intermittent surges will continue is not yet clear. Understanding the underlying transmission dynamics is key to shedding light on this, as well as informing future interventions.
Monkeypox: epidemiology, pathogenesis, treatment and prevention
Monkeypox is a zoonotic disease that was once endemic in west and central Africa caused by monkeypox virus. However, cases recently have been confirmed in many nonendemic countries outside of Africa. WHO declared the ongoing monkeypox outbreak to be a public health emergency of international concern on July 23, 2022, in the context of the COVID-19 pandemic. The rapidly increasing number of confirmed cases could pose a threat to the international community. Here, we review the epidemiology of monkeypox, monkeypox virus reservoirs, novel transmission patterns, mutations and mechanisms of viral infection, clinical characteristics, laboratory diagnosis and treatment measures. In addition, strategies for the prevention, such as vaccination of smallpox vaccine, is also included. Current epidemiological data indicate that high frequency of human-to-human transmission could lead to further outbreaks, especially among men who have sex with men. The development of antiviral drugs and vaccines against monkeypox virus is urgently needed, despite some therapeutic effects of currently used drugs in the clinic. We provide useful information to improve the understanding of monkeypox virus and give guidance for the government and relative agency to prevent and control the further spread of monkeypox virus.
November 1, 2022
Monkeypox associated myocarditis: A case report
Monkeypox is a zoonotic Orthopoxvirus infection usually present in regions of Africa. Recent outbreaks of Monkeypox infection have been reported in non endemic region and human-to-human contact is believed to be the main driver for propagation. While the disease is usually self-contained, severe complications, such as neurological and ocular involvements may arise. We report the case of a 34-year-old male who presented with myocarditis and concurrent genital Monkeypox infection. Other usual causes of myocardial injury were ruled out. We believe it to be the first documented case of myocarditis secondary to Monkeypox. We report a new complication of the disease and the possible underlying mechanisms. Our case report raises awareness about possible unknown complications of Monkeypox as outbreaks continue to happen around the world.
October 28, 2022
Genetic Variability of the Monkeypox Virus Clade IIb B.1
Monkeypox is caused by a sylvatic, double-stranded DNA zoonotic virus. Since 1 January 2022, monkeypox cases have been reported to WHO from 106 Member States across six WHO regions, and as of 2 October 2022, a total of 68,900 confirmed cases, including 25 deaths, occurred. Here, by using a whole genome approach, we perform a genetic and phylodynamic survey of the monkeypox virus Clade IIb B.1, which is the lineage causing the current multi-country outbreak. Results suggest that outbreaks seem to be isolated and localized in several epidemic clusters with geographic consistency. Currently, monkeypox appears to be a virus with a flattened genetic variability in terms of evolutionary path, with a very slow rate of growth in the population size. This scenario confirms that the monkeypox virus lacks the evolutionary advantage, given by the high level of mutation rate, which is very strong in RNA viruses. Of course, constant genome-based monitoring must be performed over time in order to detect the change in its genetic composition, if any.
October 26, 2022
Severe Monkeypox in Hospitalized Patients — United States, August 10–October 10, 2022
During August–October 2022, CDC provided clinical consultation for 57 hospitalized patients with severe manifestations of monkeypox, most of whom were Black men with AIDS. Delays were observed in initiation of monkeypox-directed therapies. Twelve patients died, and monkeypox was a cause of death or contributing factor in five patients to date, with several other deaths still under investigation.
October 21, 2022
Receipt of First and Second Doses of JYNNEOS Vaccine for Prevention of Monkeypox — United States, May 22–October 10, 2022
By October 10, 2022, a total of 931,155 JYNNEOS vaccine doses were administered in the United States. Among persons who received ≥1 vaccine dose, 51.4% were non-Hispanic White, 12.6% were non-Hispanic Black or African American (Black), and 22.5% were Hispanic persons. The percentages of vaccine recipients who were Black (5.6%) and Hispanic (15.5%) during May 22–June 25 increased to 13.3% and 22.7%, respectively, during July 31–October 10.
Characteristics of JYNNEOS Vaccine Recipients Before and During a Large Multiday LGBTQIA+ Festival — Louisiana, August 9–September 5, 2022
Since May 2022, 27,558 monkeypox cases have been identified in the United States (1). Gay, bisexual, and other men who have sex with men (MSM) represent the most affected demographic group in the current multinational outbreak (2). As of October 18, 2022, Louisiana had reported 273 monkeypox cases with 187 (68.5%) among residents of the Louisiana Department of Health (LDH) Southeast Region, which includes the city of New Orleans (3).
A Health Equity Approach for Implementation of JYNNEOS Vaccination at Large, Community-Based LGBTQIA+ Events — Georgia, August 27–September 5, 2022
Gay, bisexual, and other men who have sex with men (MSM) have been disproportionately affected during the 2022 U.S. monkeypox outbreak, with Black or African American (Black) MSM being the most affected demographic group (1). As of September 28, 2022, Georgia had reported 1,784 monkeypox cases; 98% of which occurred in males and 77% among Black persons (2). As of September 13, 2022, 60% of reported cases were among persons with HIV infection, and 50% of persons with monkeypox had a sexually transmitted infection within the past year (3). Because of racial disparities in the incidence of monkeypox cases and a large proportion of cases among MSM in Georgia, early vaccination beginning in July focused on improving equitable access by establishing new and leveraging existing partnerships with community-based organizations that serve affected populations, including persons with HIV infection. Despite these efforts, disparities persisted because of high demand and limited vaccine supply. The Georgia Department of Public Health (DPH) requested CDC support for a vaccine pilot and received an additional allocation of 5,500 doses of JYNNEOS vaccine for administration at events leading up to and throughout a Black gay Pride festival in Atlanta, a multiday event held Labor Day weekend (September 2–5, 2022). The event celebrates lesbian, gay, bisexual, transgender, queer or questioning, intersex, asexual, and other (LGBTQIA+) communities of color and hosts more than 125,000 attendees each year. Before the festival (as of August 24), 17,546 persons had been vaccinated in Georgia, of whom 96% were male, 34% aged 25–36 years, 44% Black, and 8% Hispanic or Latino (Hispanic) (4).
October 17, 2022
Ocular Monkeypox — United States, July–September 2022
This report describes five cases of ocular monkeypox identified in the United States during July–September 2022. Patients with ocular monkeypox, including those with HIV-associated immunocompromise, have experienced delays in treatment initiation, prolonged illness, hospitalization, and vision impairment. Health care providers and public health practitioners should be aware that ocular monkeypox, although rare, is a sight-threatening condition. Patients with signs and symptoms compatible with ocular monkeypox should be considered for urgent ophthalmologic evaluation and treatment. Prompt notification of public health officials can help support these efforts.
Monkeypox Virus Infection Resulting from an Occupational Needlestick — Florida, 2022
This report describes the first occupationally acquired MPVX infection in a U.S. health care worker during the 2022 monkeypox outbreak. CDC advises against unroofing, opening, or aspirating monkeypox lesions with sharp instruments (e.g., needles) and recapping used needles** because of the risk for sharps injuries. During the current outbreak, MPXV PCR testing cycle threshold values from swabbed skin and mucosal lesion specimens have been very low, indicating that surface swabbing collects sufficient amounts of viral material without a need to unroof lesions. Because of the reliability and sensitivity of real-time PCR assays used, vigorous swabbing of the outer surface of a lesion is adequate to collect enough viral material for testing and will minimize the potential for needlesticks. Employers should ensure that HCP are trained in proper specimen collection methods, follow recommended infection prevention and control precautions for the care of patients with monkeypox, and implement safety practices for managing sharps†† if they are used during other aspects of patient care. HCP with exposures should be evaluated promptly to ensure postexposure recommendations are implemented. As of October 6, 2022, among 326§§ HCP in Florida who have been occupationally exposed to patients with monkeypox during the 2022 outbreak, only this HCP with a reported needlestick exposure developed a clinical MPXV infection. Overall, with routine adherence to standard infection control practices, among U.S. HCP with nonpercutaneous exposure to monkeypox patients, the risk for acquiring monkeypox appears to be low.
October 7, 2022
Incidence of Monkeypox Among Unvaccinated Persons Compared with Persons Receiving ≥1 JYNNEOS Vaccine Dose — 32 U.S. Jurisdictions, July 31–September 3, 2022
Across 32 U.S. jurisdictions, among males aged 18–49 years eligible for JYNNEOS vaccination, monkeypox incidence was 14 times as high among unvaccinated males compared with those who had received a first vaccine dose ≥14 days earlier. These early findings suggest that a single JYNNEOS dose provides some protection against monkeypox infection. The degree and durability of such protection is unknown, and it is recommended that persons who are eligible for monkeypox vaccination receive the complete 2-dose series.
Monkeypox Case Investigation — Cook County Jail, Chicago, Illinois, July–August 2022
After a jail resident with symptomatic monkeypox spent 7 days in congregate housing, no cases were detected among a subset of residents with intermediate-risk exposures (being within 6 ft of the patient for ≥3 hours without wearing a mask) who received symptom monitoring or serologic testing. Monkeypox virus DNA, but no viable virus, was detected on one surface. Postexposure prophylaxis (PEP) acceptance was highest when offered privately. Although monkeypox transmission might be limited in similar congregate settings without higher-risk exposures, facilities should implement recommended infection control practices and provide prevention education including confidential PEP counseling.
Epidemiological and clinical characteristics of patients with monkeypox in the GeoSentinel Network: a cross-sectional study
226 cases were reported at 18 sites in 15 countries. Of 211 men for whom data were available, 208 (99%) were gay, bisexual, or men who have sex with men (MSM) with a median age of 37 years (range 18–68; IQR 32–43). Of 209 patients for whom HIV status was known, 92 (44%) men had HIV infection with a median CD4 count of 713 cells per mm3 (range 36–1659; IQR 500–885). Of 219 patients for whom data were available, 216 (99%) reported sexual or close intimate contact in the 21 days before symptom onset; MSM reported a median of three partners (IQR 1–8). Of 195 patients for whom data were available, 78 (40%) reported close contact with someone who had confirmed monkeypox. Overall, 30 (13%) of 226 patients were admitted to hospital; 16 (53%) of whom had severe illness, defined as hospital admission for clinical care rather than infection control. No deaths were reported. Compared with patients without HIV, patients with HIV were more likely to have diarrhoea (p=0·002), perianal rash or lesions (p=0·03), and a higher rash burden (median rash burden score 9 [IQR 6–21] for patients with HIV vs median rash burden score 6 [IQR 3–14] for patients without HIV; p<0·0001), but no differences were identified in the proportion of men who had severe illness by HIV status.
The 2022 monkeypox outbreak: the need for clinical curiosity
In the UK, the 2022 monkeypox outbreak was heralded by an imported case on May 7, 2022, with a typical history and presentation for imported monkeypox, including a widespread vesiculopustular rash and relevant travel history. Shortly afterwards, and perhaps due to public notification and increased awareness following this case, a cluster of cases was identified among gay, bisexual, and other men who have sex with men with no travel history and no epidemiological link to the index case.Since then, more than 60 000 laboratory confirmed cases have been identified in 105 countries and territories.
October 6, 2022
Situational Update for Clinicians about Severe Monkeypox Virus Infections
This COCA Call supports and expands on the Centers for Disease Control (CDC) Health Alert Network (HAN) Health Advisory released on September 29, 2022, about people experiencing severe manifestations of monkeypox and medical countermeasures available to treat people who have monkeypox.
October 2, 2022
Laboratory validation and clinical performance of a saliva-based test for monkeypox virus
Improved diagnostic tests and accessibility are essential for controlling the outbreak of monkeypox. We describe a saliva-based polymerase chain reaction (PCR) assay for monkeypox virus, in vitro test performance, and clinical implementation of that assay in Los Angeles, San Francisco, and Palm Springs, CA. Finally, using prespecified search terms, we conducted a systematic rapid review of PubMed and Web of Science online databases of studies reporting the performance of oral pharyngeal or saliva-based tests for the monkeypox virus. The assay showed in silico inclusivity of 100% for 97 strains of monkeypox virus, with an analytic sensitivity of 250 copies/ml, and 100% agreement compared to known positive and negative specimens. Clinical testing identified 22 cases of monkeypox among 132 individuals (16.7%), of which 16 (72.7%) reported symptoms, 4 (18.2%) without a rash at the time of testing. Of an additional 18 patients with positive lesion tests, 16 (88.9%) had positive saliva tests. Our systematic review identified six studies; 100% of tests on oropharyngeal specimens from 23 patients agreed with the PCR test result of a lesion. Saliva-based PCR tests are potential tools for case identification, and further evaluation of the performance of such tests is warranted.
September 30, 2022
Human Monkeypox Virus Infection in the Immediate Period After Receiving Modified Vaccinia Ankara Vaccine
In this small study, the majority of postvaccination monkeypox infections occurred within 2 weeks of receiving the first dose of MVA-BN, before full effectiveness was likely to have been achieved, in line with published immunogenicity data.4,5 Because the incubation period for monkeypox is 3 to 17 days, some of the cases occurring between 1 and 14 days after vaccination may not represent true vaccine failure because patients may have sought vaccination after realizing they were exposed. Of concern is that at least 2 breakthrough infections were observed in individuals at least 3 weeks after a second dose.
September 29, 2022
Monkeypox virus in human body sites and fluids: evidence for transmission
With more than 50 000 cases worldwide in since May, 2022, and more than 95% of them in men who have sex with men, the monkeypox outbreak continues to represent a major medical and public health concern. Uncertainties persist regarding the transmission routes; together with epidemiological data, new insights are expected from the virological evaluation of the presence of monkeypox virus (MPXV) in different areas of the human body.
September 22, 2022
Heavy-tailed sexual contact networks and monkeypox epidemiology in the global outbreak, 2022
The outbreak of monkeypox across non-endemic regions confirmed in May 2022 shows epidemiological features distinct from previously imported outbreaks, most notably its observed growth and predominance amongst men who have sex with men (MSM). We use a transmission model fitted to empirical sexual partnership data to show that the heavy-tailed sexual partnership distribution, in which a handful of individuals have disproportionately many partners, can explain the sustained growth of monkeypox among MSM despite the absence of such patterns previously. We suggest that the basic reproduction number (R0) for monkeypox over the MSM sexual network may be substantially above 1, which poses challenges to outbreak containment. Ensuring support and tailored messaging to facilitate prevention and early detection among MSM with high numbers of partners is warranted.
September 1, 2022
Low levels of monkeypox virus neutralizing antibodies after MVA-BN vaccination in healthy individuals
In July 2022, the ongoing monkeypox (MPX) outbreak was declared a public health emergency of international concern by the World Health Organization. Modified vaccinia virus Ankara (MVA-BN, also known as Imvamune, Jynneos, or Imvanex) is a 3rd generation smallpox vaccine that was generated by serial passaging of the more pathogenic parental vaccinia virus (VACV), and is authorized as a vaccine against MPX in humans in a two-shot regimen. Up to now, there is a lack of data that demonstrate MPX virus (MPXV)-neutralizing antibodies in vaccinated individuals and vaccine efficacy data against MPXV infection. Here, we measure MVA-, VACV-, and MPXV-reactive binding and neutralizing antibodies with validated in-house assays in cohorts of historically smallpox-vaccinated, MPXV PCR-positive, and recently MVA-BN-vaccinated individuals. We show that MPXV neutralizing antibodies were detected across all cohorts in individuals with MPXV exposure as well as those who received historic (VACV) vaccination. However, a primary MVA-BN immunization series in non-primed individuals yields relatively low levels of MPXV neutralizing antibodies. As the role of MPXV neutralizing antibodies for protection against disease and transmissibility is currently unclear and no correlate of protection against MPXV infection has been identified yet, this raises the question how well vaccinated individuals are protected. Dose-sparing leads to lower antibody levels, whereas a third MVA vaccination further boosts the antibody response. Cohort studies following vaccinated individuals are necessary to further assess vaccine efficacy in risk populations and determine correlates of protection for this emerging pathogen.
Technical Report 2: Multi-National Monkeypox Outbreak, United States, 2022
The purpose of this report is to provide timely updates regarding CDC's ongoing response to the monkeypox (MPX) outbreak in the United States, and to share preliminary results of new analyses that can improve understanding of the outbreak and inform further scientific inquiry.  This report is intended for a technical audience; each report features a combination of standing topics and the results of special analyses.
Monkeypox DNA levels correlate with virus infectivity in clinical samples, Israel, 2022
In early May 2022, monkeypox virus (MPXV) human infections were reported in the United Kingdom (UK). Since, increasing numbers of cases, also attributed to the MPXV Clade II, have been observed in other non-endemic countries for the virus, amounting, up to 5 August 2022, to over 28,220 cases worldwide [1 ]. To date, the current outbreak is mostly affecting men who have sex with men (MSM), and the disease caused by MPXV is manifested mainly with skin/mucosal lesions at multiple sites including genital, oropharyngeal or perianal areas [2]. Presently, the rapid detection and identification of MPXV relies on a PCR from a patient (or an environmental) sample being positive for MPXV genetic material (DNA). However, the presence of viral DNA in a clinical specimen does not imply its infectivity, restricting risk assessment [3]. In this study, we test for a correlation between MPXV DNA copies in patient specimens, as measured by PCR, and infectious virus, as measured by plaque assay. We also estimate a threshold value in PCR that may inform decision-making on MPXV infection control.
August 23, 2022
Monkeypox: what we know about the 2022 outbreak so far
With WHO declaring monkeypox a public health emergency of international concern, Mun-Keat Looi explains the current state of the global outbreak.
August 19, 2022
High-Contact Object and Surface Contamination in a Household of Persons with Monkeypox Virus Infection — Utah, June 2022
In May 2022, the Salt Lake County Health Department reported two real-time polymerase chain reaction (PCR)–confirmed travel-associated cases of monkeypox to the Utah Department of Health and Human Services (UDHHS). The two persons with monkeypox (patients A and B) lived together without other housemates. Both persons experienced prodromal symptoms (e.g., fatigue and body aches). Eight days after symptom onset, patient A experienced penile lesions; lesions spread to the lips, hands, legs, chest, and scalp by day 10. Patient B experienced prodromal symptoms 8 days after illness onset of patient A; patient B experienced a lesion on the foot which spread to the leg and finger by day 11. Although both patients had lesions in multiple anatomic areas, the overall number of lesions was small, and lesions varied in presentation from "pimple-like" or ulcerated, to characteristically well-circumscribed and centrally umbilicated. Both patients had mild illness. The time from symptom onset to resolution was approximately 30 days for patient A and approximately 22 days for patient B.
August 16, 2022
Detection of Monkeypox Virus in Anorectal Swabs From Asymptomatic Men Who Have Sex With Men in a Sexually Transmitted Infection Screening Program in Paris, France
This report documents positive MPXV PCR results from anal samples in asymptomatic MSM. Whether this indicates viral shedding that can lead to transmission is unknown. If so, the practice of ring postexposure vaccination around symptomatic persons with probable or confirmed MPXV infection may not be sufficient to contain spread. Recent French recommendations have advised vaccination for all MSM with multiple partners.
Asymptomatic Infection? Another Reason to Consider Monkeypox a Disease of Public Health Concern
The role of subclinical or asymptomatic infection in transmission of monkeypox virus or variola virus is not known. Historically, transmission of these viruses was thought to be greatest when the rash was present. The presence of virus in throat cultures in asymptomatic people was believed to be of little or no epidemiologic importance given that the successful eradication of smallpox was due in part to the ability to always identify a source patient (9). However, the current worldwide monkeypox epidemic and the mode of human-to-human transmission may provide evidence that asymptomatic or preclinical spread can occur. Because of this possibility, an expanded ring vaccination strategy as one of the public health responses in the communities at highest risk is likely needed to help control the outbreak. However, we should keep in mind that control of this outbreak will only be successful if vaccination is used along with other public health interventions, including identifying and isolating cases, making treatment available, and educating the public to decrease the risk for potential exposure while community spread is at a high level.
August 15, 2022
Human Monkeypox without Viral Prodrome or Sexual Exposure, California, USA, 2022
We report human monkeypox in a man who returned to the United States from the United Kingdom and reported no sexual contact. He had vesicular and pustular skin lesions but no anogenital involvement. The potential modes of transmission may have implications for the risk of spread and for epidemic control.
August 12, 2022
Epidemiologic and Clinical Characteristics of Monkeypox Cases — United States, May 17–July 22, 2022
Among U.S. monkeypox cases with available data, 99% occurred in men, 94% of whom reported recent male-to-male sexual or close intimate contact; racial and ethnic minority groups appear to be disproportionately affected. Clinical presentations differed from typical monkeypox, with fewer persons experiencing prodrome and more experiencing genital rashes.
August 11, 2022
How does monkeypox spread? What scientists know
Prolonged contact, especially with a person's skin lesions, is emerging as the top transmission route. As global monkeypox cases continue to soar, researchers are learning more about how the disease is spreading. Early predictions that the virus transmits primarily through repeated skin-to-skin contact between people have largely borne out, according to a tranche of new studies.
August 8, 2022
Clinical presentation and virological assessment of confirmed human monkeypox virus cases in Spain: a prospective observational cohort study
In our cohort, monkeypox caused genital, perianal, and oral lesions and complications including proctitis and tonsillitis. Because of the variability of presentations, clinicians should have a low threshold for suspicion of monkeypox. Lesion swabs showed the highest viral loads, which, combined with the history of sexual exposure and the distribution of lesions, suggests close contact is probably the dominant transmission route in the current outbreak.
August 5, 2022
Epidemiologic and Clinical Characteristics of Monkeypox Cases — United States, May 17–July 22, 2022
Among U.S. monkeypox cases with available data, 99% occurred in men, 94% of whom reported recent male-to-male sexual or close intimate contact; racial and ethnic minority groups appear to be disproportionately affected. Clinical presentations differed from typical monkeypox, with fewer persons experiencing prodrome and more experiencing genital rashes.
Interim Guidance for Prevention and Treatment of Monkeypox in Persons with HIV Infection — United States, August 2022
CDC has developed clinical considerations for prevention and treatment of monkeypox in persons with HIV infection, including pre-exposure and postexposure prophylaxis with JYNNEOS vaccine, treatment with tecovirimat, and infection control.
August 4, 2022
Breakthrough infections after post-exposure vaccination against Monkeypox
Between May 27th and July 13th, 2022, 276 individuals received one dose of IMVANEX®with a median delay of 11 days [IQR 8-14] after exposure with a confirmed Monkeypox patient. Mode of exposure was droplets for 240 patients (91%), indirect contact for 189 (71%) and unprotected sexual intercourse for 146 (54%). Most of the patients were men (91%, n=250) and men who have sex with men (88%, n=233). The vaccine was well tolerated with no severe adverse event. Among the 276 vaccinated individuals, 12 (4%) had a confirmed Monkeypox breakthrough infection with no severe infection. Ten out of 12 patients developed a Monkeypox infection in the five days following vaccination and two had a breakthrough infection at 22 and 25 days.
August 3, 2022
Tecovirimat and the Treatment of Monkeypox — Past, Present, and Future Considerations
We recognize that monkeypox can cause severe disease and that tecovirimat has been shown to have efficacy in animal models of monkeypox and an acceptable safety profile in healthy people. Therefore, while RCTs are under development, the Centers for Disease Control and Prevention (CDC) and the FDA have worked together to streamline the expanded-access process by reducing paperwork and data collection,5 and we will continue to fine-tune these mechanisms with input from health care providers using this process. In parallel, we believe that it remains critical to conduct RCTs in the United States to determine whether tecovirimat is a safe and effective treatment for monkeypox disease, especially given the disease's clinical presentation in the current outbreak. As was the case with antiretrovirals for HIV in the 1980s, without data from RCTs, we will not know whether tecovirimat would benefit, harm, or have no effect on people with monkeypox disease. The CDC, the FDA, and the NIH will continue to work together to provide access to tecovirimat for compassionate use while appropriately evaluating its safety and efficacy in RCTs.
August 2, 2022
Monkeypox virus isolation from a semen sample collected in the early phase of infection in a patient with prolonged seminal viral shedding
The patient was a 39-year-old man, who travelled in Austria during the first 2 weeks of May, 2022. He self-identified as an MSM and sex worker and reported condomless sexual intercourse with several male partners during the previous month. The patient was HIV-infected, treated with dolutegravir and lamivudine, with viral suppression and immune recovery, and reported a history of sexually transmitted infections. He was admitted to the hospital 5 days after symptom onset. His symptoms included fever, followed by the appearance of clustered itchy papular lesions in the anal region and single lesions on the head, thorax, legs, arms, hand, and penis. The patient reported one dose of smallpox vaccination during childhood, more than 30 years earlier. He did not receive any current treatment for monkeypox virus infection.
July 30, 2022
Monkeypox: a global wake-up call
WHO's declaration on July 23 that the current monkeypox outbreak constitutes a Public Health Emergency of International Concern (PHEIC) was unprecedented. It is the seventh such declaration, but the first made against the advice of a majority of the emergency committee (nine were against, six were for). Dr Tedros' decision is a brave one. It needs to serve as a global wake-up call. The question is whether it will prompt the escalated efforts required to control the outbreak.
July 29, 2022
Ophthalmic manifestation of monkeypox infection
A 39-year-old, White, bisexual male attended our sexual health clinic with proctitis and a cluster of vesicles (2–3 mm) in the anal region, which had presented 3 days previously. He declared having had multiple unprotected sexual encounters and being on pre-exposure prophylaxis for HIV prevention since 2019. Over the previous 3 weeks, he had travelled to France and Germany, before returning to Italy.
July 28, 2022
Clinical features and novel presentations of human monkeypox in a central London centre during the 2022 outbreak: descriptive case series
The median age of participants was 38 years. All 197 participants were men, and 196 identified as gay, bisexual, or other men who have sex with men. All presented with mucocutaneous lesions, most commonly on the genitals (n=111 participants, 56.3%) or in the perianal area (n=82, 41.6%). 170 (86.3%) participants reported systemic illness. The most common systemic symptoms were fever (n=122, 61.9%), lymphadenopathy (114, 57.9%), and myalgia (n=62, 31.5%). 102/166 (61.5%) developed systemic features before the onset of mucocutaneous manifestations and 64 (38.5%) after (n=4 unknown). 27 (13.7%) presented exclusively with mucocutaneous manifestations without systemic features. 71 (36.0%) reported rectal pain, 33 (16.8%) sore throat, and 31 (15.7%) penile oedema. 27 (13.7%) had oral lesions and 9 (4.6%) had tonsillar signs. 70/195 (35.9%) participants had concomitant HIV infection. 56 (31.5%) of those screened for sexually transmitted infections had a concomitant sexually transmitted infection. Overall, 20 (10.2%) participants were admitted to hospital for the management of symptoms, most commonly rectal pain and penile swelling.
July 22, 2022
EMA recommends approval of Imvanex for the prevention of monkeypox disease
The CHMP based their recommendation on data from several animal studies which showed protection against the monkeypox virus in non-human primates vaccinated with Imvanex. The CHMP considered that the effectiveness of Imvanex in the prevention of monkeypox disease in humans could be inferred from these studies. To confirm the effectiveness of the vaccine against monkeypox, the company will collect data from an observational study that will be carried out during the ongoing monkeypox outbreak in Europe.
July 21, 2022
Monkeypox Virus Infection in Humans across 16 Countries — April–June 2022
In this case series, monkeypox manifested with a variety of dermatologic and systemic clinical findings. The simultaneous identification of cases outside areas where monkeypox has traditionally been endemic highlights the need for rapid identification and diagnosis of cases to contain further community spread.
July 18, 2022
Clinical Presentation and Virological Assessment of Confirmed Human Monkeypox Virus Cases in Spain : A Prospective Cohort Study
In our study cohort, monkeypox caused genital, perianal, and oral lesions and complications like proctitis and tonsillitis. Because of the variability of clinical presentations clinicians should have a low threshold for suspicion of the disease. Compared to pharyngeal swabs, lesion swabs show much higher viral loads, suggesting close contact is likely to be the dominant transmission route in the current outbreak.
July 14, 2022
Frequent detection of monkeypox virus DNA in saliva, semen, and other clinical samples from 12 patients, Barcelona, Spain, May to June 2022
MPX virus transmission dynamics, similarly to other newly emerging viral infections, may need to be addressed under multidisciplinary approaches. Our results contribute to an improved understanding of a likely complex transmission puzzle and underline other immediate areas for research such as the infectivity of bodily fluids, the frequency of secondary and asymptomatic cases or the impact of social and behavioural factors affecting viral transmission. Our results may be valuable as well for diagnostic testing algorithms and public health interventions.
July 1, 2022
Demographic and clinical characteristics of confirmed human monkeypox virus cases in individuals attending a sexual health centre in London, UK: an observational analysis
Monkeypox virus infection was confirmed in 54 individuals, all identifying as men who have sex with men (MSM), with a median age of 41 years (IQR 34–45). 38 (70%) of 54 individuals were White, 26 (48%) were born in the UK, and 13 (24%) were living with HIV. 36 (67%) of 54 individuals reported fatigue or lethargy, 31 (57%) reported fever, and ten (18%) had no prodromal symptoms. All patients presented with skin lesions, of which 51 (94%) were anogenital. 37 (89%) of 54 individuals had skin lesions affecting more than one anatomical site and four (7%) had oropharyngeal lesions. 30 (55%) of 54 individuals had lymphadenopathy. One in four patients had a concurrent STI. Five (9%) of 54 individuals required admission to hospital, mainly due to pain or localised bacterial cellulitis requiring antibiotic intervention or analgesia. We recorded no fatal outcomes.
June 29, 2022
MONKEYPOX CASE STUDY - CDC Emergency Preparedness
This is a technical presentation intended for healthcare professionals and contains graphic images that might not be appropriate for some audiences. It is a CDC COCA call presentation made on June 29, 2022.
Global Monkeypox Outbreaks Spur Drug Research for the Neglected Disease
In 2018, physicians in the UK administered an investigational smallpox drug called brincidofovir to 3 patients with monkeypox virus infections stemming from a large outbreak in Nigeria. Before then, monkeypox had never been encountered in Europe.
June 28, 2022
Does it matter who is spreading monkeypox?
Recently, many cases of monkeypox were reported worldwide. Although most of these cases seem to be associated with the community of men who have sex with men (MSM), not all of them are. Cases with west and central African monkeypox virus clades have been rising in the past 20 years. The current spread, due to the less transmissible and less virulent west African clade, was unexpected because observations on earlier outbreaks, mostly in African villages, indicated that monkeypox outbreaks are self-limiting. In technical terms, the basic reproduction number (R0) was less than 1. R0 is the average number of secondary cases produced by a single case during the whole infectious period in a community without immunity and without interventions. The low transmissibility, obviously, must have changed during this current emergence of cases. Whether this change was due to mutations in the virus or due to a different type and frequency of contacts is interesting, but not necessarily relevant when contemplating how to stop the outbreak. The main question simply is how to reduce the average number of secondary cases per infected person to below 1. In this context, it also does not matter whether the infection mainly spreads within an MSM community or finds its way into other groups of the population. We can only speculate about the current value of R0 for monkeypox.
June 13, 2022
Monkeypox in 2022—What Clinicians Need to Know
Monkeypox virus was first isolated in 1958 from monkeys at the Statens Serum Institut in Copenhagen, Denmark—thus its name; however, the natural host of monkeypox virus also includes rope squirrels, tree squirrels, Gambian pouched rats, and dormice. As with many zoonoses, this poxvirus is transmitted incidentally to humans when they encounter infected animals. The first known human case of monkeypox was recorded in 1970 in the Democratic Republic of the Congo.
June 9, 2022
JAMA Monkeypox Patient Page
May 26, 2022
Monkeypox outbreak questions intensify as cases soar
With the COVID-19 pandemic still raging, a second public health threat has the world on high alert: a global outbreak of monkeypox. As of 26 May, two dozen countries in the Americas, Europe, North Africa, the Middle East, and Australia had reported more than 350 suspected and confirmed cases of the disease, a much milder cousin of smallpox, the deadly scourge that the World Health Organization (WHO) deemed eradicated in 1980. A disproportionate number of cases are in men who have sex with men (MSM), an unusual twist given that researchers have never convincingly shown sexual transmission occurs in monkeypox.
May 19, 2022
First draft genome sequence of Monkeypox virus associated with the suspected multi-country outbreak, May 2022 (confirmed case in Portugal)
On May 19th, Portugal had already registered more than 20 laboratory confirmed cases of monkeypox and several samples were already subjected to laboratory procedures towards the determination of the virus genome sequence. Here we report the release of the first draft genome sequence of the monkeypox virus associated with this major outbreak affecting multiple countries worldwide. This sequence (Monkeypox_PT0001_2022.zip (52.1 KB)) was obtained from a swab collected on May 4th from skin lesions from a male patient. A first rapid phylogenetic analysis of the draft genome (Figure 1) indicates that the 2022 virus belongs to the West African clade and is most closely related to viruses associated with the exportation of monkeypox virus from Nigeria to several countries in 2018 and 2019, namely the United Kingdom, Israel and Singapore (4, 5). This preliminary data and analysis will be soon updated upon the release of new genome data, which will be important to elucidate the origin and international spread of the currently circulating virus.
May 24, 2022
Clinical features and management of human monkeypox: a retrospective observational study in the UK
We reviewed all cases since the inception of the HCID (airborne) network between Aug 15, 2018, and Sept 10, 2021, identifying seven patients. Of the seven patients, four were men and three were women. Three acquired monkeypox in the UK: one patient was a health-care worker who acquired the virus nosocomially, and one patient who acquired the virus abroad transmitted it to an adult and child within their household cluster. Notable disease features included viraemia, prolonged monkeypox virus DNA detection in upper respiratory tract swabs, reactive low mood, and one patient had a monkeypox virus PCR-positive deep tissue abscess. Five patients spent more than 3 weeks (range 22–39 days) in isolation due to prolonged PCR positivity. Three patients were treated with brincidofovir (200 mg once a week orally), all of whom developed elevated liver enzymes resulting in cessation of therapy. One patient was treated with tecovirimat (600 mg twice daily for 2 weeks orally), experienced no adverse effects, and had a shorter duration of viral shedding and illness (10 days hospitalisation) compared with the other six patients. One patient experienced a mild relapse 6 weeks after hospital discharge.