Digital Signage
Signage Information
LSUHSC-NO has implemented a digital signage system. This system will allow messages to be posted for different Schools and Departments in multiple areas throughout campus. In addition, these signs will be used during emergencies in order to disseminate information more efficiently.
Layout
Shown in the image are the current arrangement of the Playlists. From top left and going clockwise are Playlists 1, 2, and 3.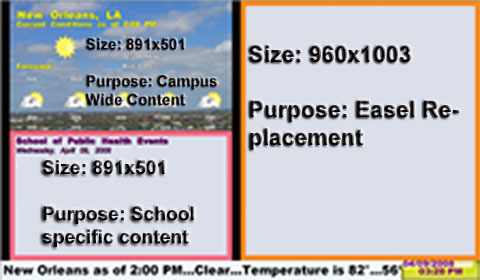 Request for Event Listing
If you would like to have an event or bulletin added, you may request that it be added by sending an email to the appropriate distribution list. The distribution lists are listed below:
Playlist 1: Campus Wide: DS-CampusWide


Playlist 2: Easels: DS-Easels


Playlist 1: Academic Affairs: DS-AA


Playlist 3: School of Allied Health Professions: DS-SAH


Playlist 3: School of Dentistry: DS-SOD


Playlist 3: School of Graduate Studies: DS-SGS


Playlist 3: School of Medicine: DS-SOM


Playlist 3: School of Nursing: DS-SON


Playlist 3: School of Public Health: DS-SPH

Content Approvers and Editors
Templates, training and tutorials are available for those maintaining content on the signs at https://intranet.lsuhsc.edu/alerts/digitalsignage/.